The project
To echo the "Africa 2020" season of cultures, the Grand Trianon has created ephemeral African flowerbeds in its gardens. Designed as a contemporary, colorful and sensual interpretation of Africa, it reflects, through its landscapes, the spirit of diversity of the African continent and evokes its ambiances.
The result of several months of work by the Trianon gardeners, these flowerbeds have been designed as a didactic journey of contemporaneity in history, allowing to discover the dozens of plants and revealing professions. About 300 young people, far from culture, from 8 associations were targeted and could benefit from free visits from September to October 2020: Le Refuge, L'Aurore, La Protection Judiciaire de la Jeunesse in Versailles, L'École de la 2ème chance, Savoir pour réussir, two structures against school dropout in Trappes and Chanteloup and the Lycée Horticole de Versailles.
The Francis Kurkdjian Endowment Fund has allowed the realization of these botanical creations while committing itself against cultural discrimination by allowing these young people to benefit from the visit.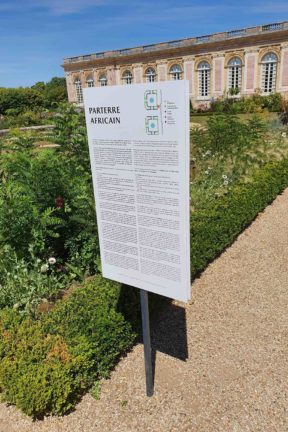 The ephemeral African flowerbeds of the Château de Versailles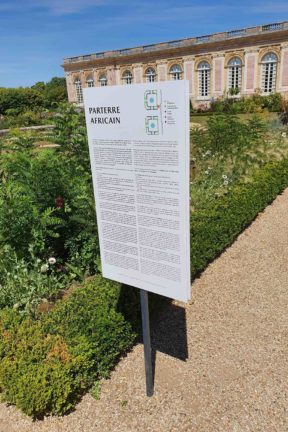 The ephemeral African flowerbeds of the Château de Versailles
More than 100 vegetal varieties planted.
7 institutions at work in technical and scientific support
300 young people from 8 associations benefited from didactic visits.